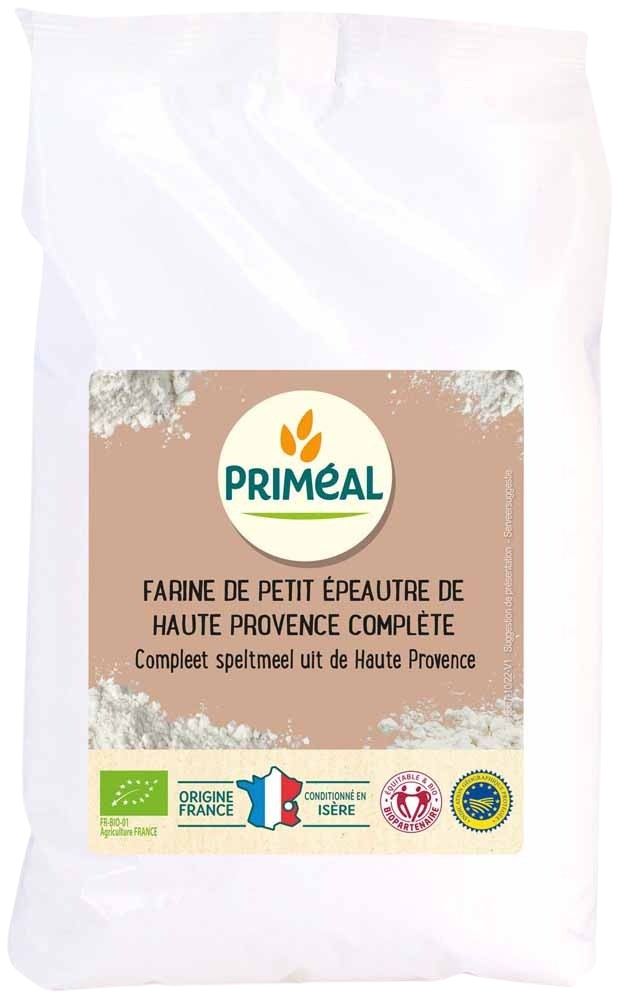 WHOLE SMALL SPELT FLOUR 500G
From organic farming
Net weight : 0,5 kg
Commitments
FRANCE
Description
Priméal einkorn flour comes from Haute-Provence. It is characterised by its fine, slightly sweet flavour.
Ingredients
Wholemeal spelt flour from Haute-Provence* (Triticum monococcum)



(GLUTEN)



*From organic farming. Organic Solidarity approach controlled by Ecocert
Detailed preparation advice
Wholemeal einkorn flour from Haute Provence is best used in a mixture with wheat or spelt flour to make bread. It is not as well-suited to bread-making as wheat, but its flavour is incomparable.



Very good for making pancakes and waffles.
Where to buy
Nutritional values
Energy value
1 476 kj / 349 kcal
Fat content


of which saturated fatty acids

3,0 g


0,5 g

Carbohydrates


of which sugars

63,3 g


1,0 g

Fibers
9,2 g
Protein
12,7 g
Salt
0,01 g
Additional information
Store in a dry, dark place at room temperature.