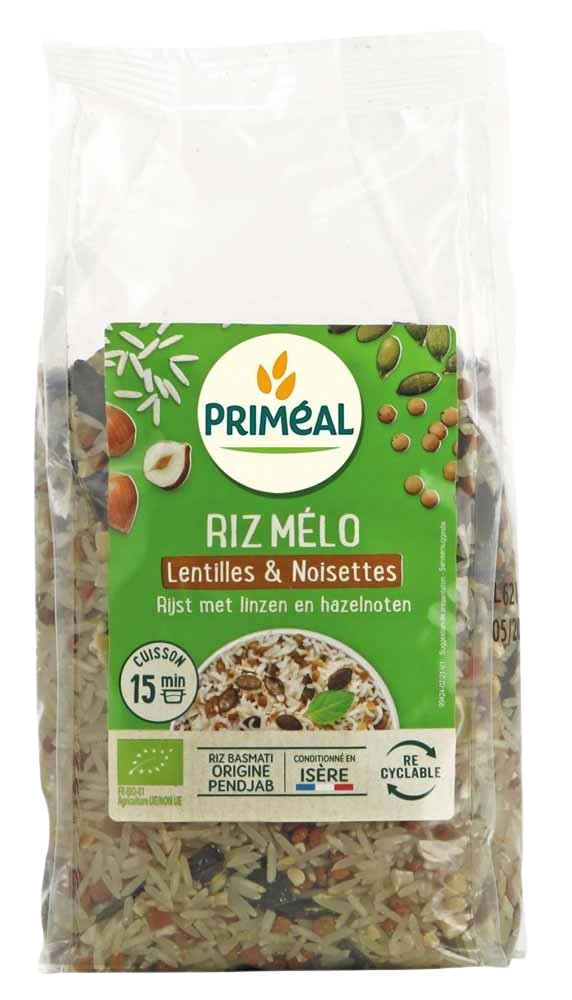 LENTILS & HAZELNUTS MELO RICE 500G
From organic farming
Net weight : 0,5 kg
Cooking : 15 mn
Commitments
FRANCE IN OUR MANUFACTURING WORKSHOPS
Recyclable packaging
Description
Discover the nutritional benefits of combining cereals, pulses and oilseeds with Priméal's organic Rice Mix.
Ingredients
Half-brown basmati rice*, lentils* (12%), pumpkin seeds*, roasted hazelnuts* (5%)



* organically grown
Intolérances :
Gluten, soya, sesame, lupin, other traces of nuts.
Detailed preparation advice
Cook 1 part rice mix in 2 parts water for 15 minutes, covered, until the water is completely absorbed. Add salt at the end of cooking
Where to buy
Nutritional values
Energy value
1 563 kj / 370 kcal
Fat content


of which saturated fatty acids

5,5 g


0,8 g

Carbohydrates


of which sugars

66,0 g


0,4 g

Fibers
5,0 g
Protein
11,6 g
Salt
0,01 g
Additional information
Store in a dry, temperate place, away from light
EU / Non EU agriculture
Source of protein
Our current inspirations
Don't miss out!