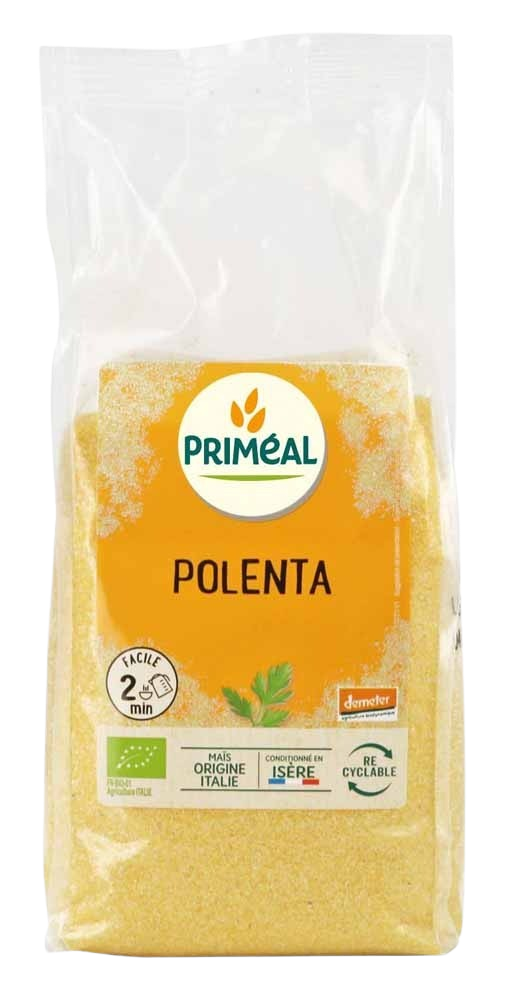 CORN SEMOLINA DEMETER 500G
From organic farming
Net weight : 0,5 kg
Cooking : 2 mn
Commitments
Recyclable packaging
Description
Polenta is made from corn flour. Quick to prepare, it can be used in both savoury and sweet dishes.
Ingredients
Demeter** corn semolina* pre-cooked in steam



* organically and biodynamically grown



**Demeter is the brand name for certified biodynamic agriculture
Detailed preparation advice
For 5 people, pour 250g of semolina into 1 litre of boiling water stirring continuously, add salt and cook for 2 to 3 minutes. Polenta can be prepared as a main course (purée), as an aperitif (shaped in different types of moulds, cooled and then toasted in the oven or in the pan), as a side dish as bread, or to take with you on a picnic or as a replacement for a pie crust.
Where to buy
Nutritional values
Energy value
1 486 kj / 350 kcal
Fat content


of which saturated fatty acids

1,4 g


0,3 g

Carbohydrates


of which sugars

76,1 g


0,6 g

Fibers
2,1 g
Protein
7,3 g
Salt
0,01 g
Additional information
Store in a dry, temperate place, away from light
Italy agriculture