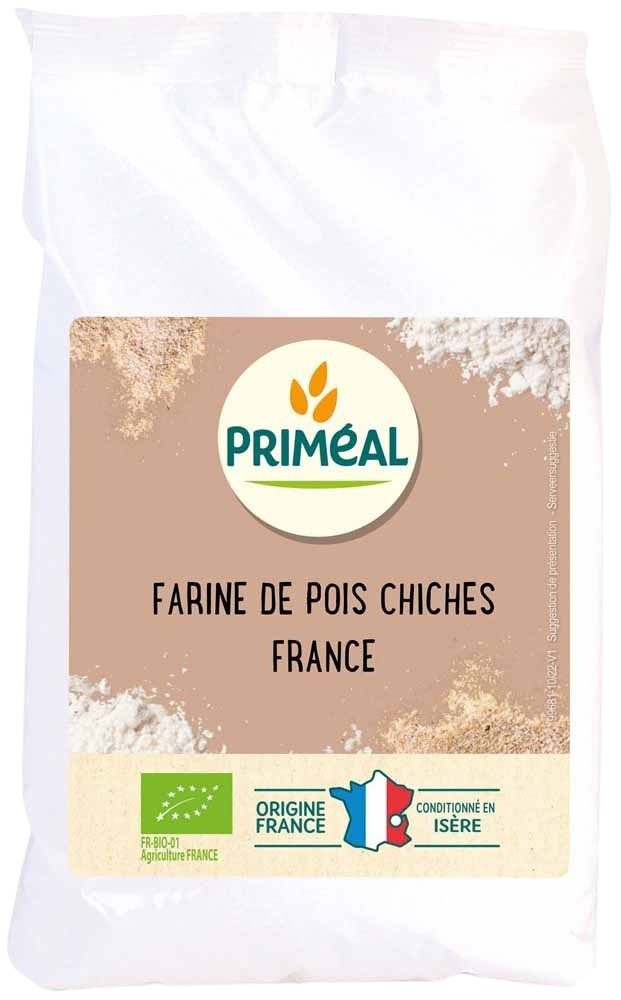 CHICKPEAS FLOUR 500G
From organic farming
Net weight : 0,5 kg
Cooking : 20 mn
Commitments
Originie France
FRANCE
Description
Priméal organic chickpea flour is of French origin. Perfect for making panisse pastries, a speciality from the south of France.
Ingredients
Chickpeas*



* organically grown
Intolérances :
Gluten
Detailed preparation advice
Can be used in many different dishes. Example of use: pour 1 part of flour into 3 to 4 parts of cold water, bring to the boil and cook for 20 minutes, stirring, then add salt. Pour the hot mix into a cake tin. Once cooled, cut the dough into slices and brown them in a pan.
Where to buy
Nutritional values
Energy value
1 534 kj / 364 kcal
Fat content


of which saturated fatty acids

6,1 g


0,8 g

Carbohydrates


of which sugars

50,7 g


2,8 g

Fibers
9,7 g
Protein
21,7 g
Salt
0,01 g
Additional information
Store in a dry, temperate place, away from light